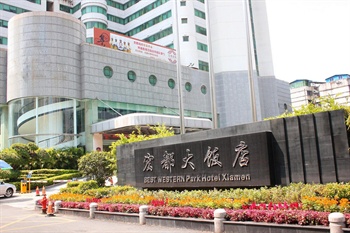 Best Western Park hotel Xiamen at the center of Xiamen gold a sector of an area, adjacent to the Egret Island Park and the Xiamen municipal government, is apart from the airport only 15 minutes by car, railway station 10 minutes by car. Zhongshan Road, Gulangyu Islet, southern Putuo and other major attractions are only a few minutes drive. Convenient transportation, unique geographical location.
Best Western International Hotel Group, more than 100 countries and regions in the world have members of the hotel more than 4200, the total number of rooms more than 30 million, is a single global brand the largest hotel chain group, in the United States, Canada and Europe with extensive influence.
Best Western Park Hotel Xiamen, is a breakthrough of the traditional high quality hotel. Chair hotel please Hong Kong famous design team lasted nearly two years of hard to build, the unique design idea, through the hotel space layout to display the health upward life attitude, Park Hotel expression not only space hotel, but through different perspectives to interpret for adherence to and respect the privacy of the guests feel life, reflecting the macros based on the pursuit of quality, sense of space layout and design of the smart and pursue careers. For the guests bring different business experience and new living experience, even if just short of a few days to live, can also enjoy the Park hotel unique style and rate of.
Park Hotel breakthrough tradition of service mode, make communication become vivid, enjoy to be rich. Every guest in the hotel can enjoy value-added services supporting, free breakfast, 24-hour gym, private swimming pool, allowing you to enjoy a healthy life every day; full coverage of wireless networks, allowing you to either office or leisure are unimpeded. Leisure afternoon, six floor hotel administrative mellow coffee and delicate tea provides a full range of prestige for you. Xiamen macros kitchen known to every family to provide authentic authentic Cantonese cuisine, Hong Kong style tea snacks